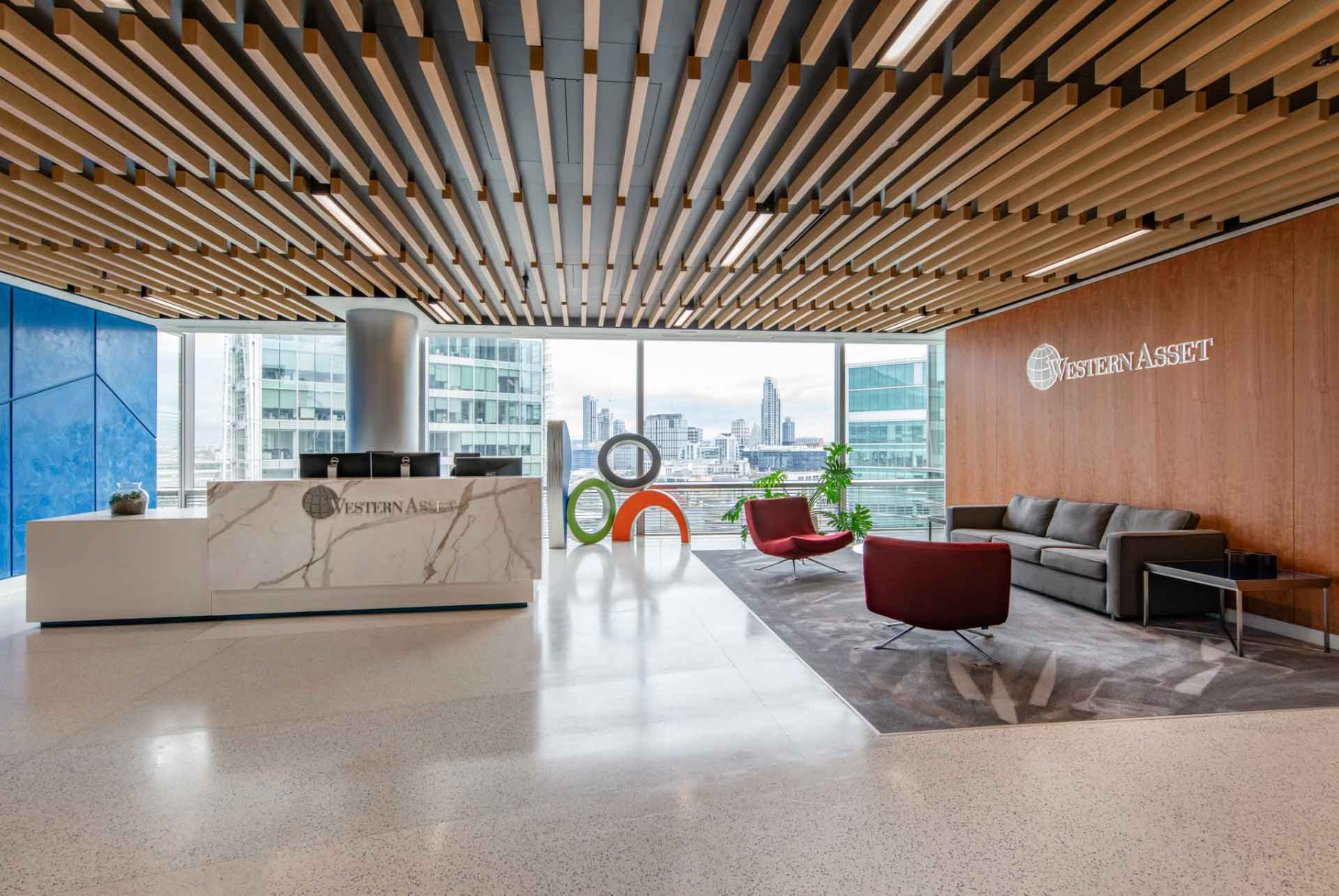 A Look Inside Western Asset Management's New London Office
Investmentcompany Western Asset Management recently hired workplace design firm Peldon Rose to design their new office in London, England.
"Fitting out an iconic London building is always an exciting prospect, especially when the opportunity to incorporate the building's existing architectural features presents itself. Using these unique features, Peldon Rose were able to create a warm, inviting and fresh space for Western Asset Management.

A welcoming, bright reception space that encapsulates the vibrancy of 10 Exchange Square first greets clients and colleagues upon entering the office, offering impressive views of the city of London. The striking architecture of the building, designed by architects Skidmore, Owings & Merrill in 2004, has been woven into the design, with Peldon Rose introducing new ideas that complement and enhance the space. Meeting rooms have been designed around concrete structural pillars, adding a unique touch which also maximises the floorspace available.

As a company with workplaces across the world and a client base to match, Western Asset Management needed a space that made both its clients and teams feel at home. A strong brand identity and unified look to the other global office spaces was also key, as 10 Exchange Square needed to be an immediately recognisable space. By studying the layout plans and finishes of its other locations, as well as utilising the global playbook, Peldon Rose brought this identity to life using cohesive colour palettes, fixtures and finishes. Pops of colour, like the vibrant blue of Western Asset Management's branding, are a key example of this, and have been used throughout the space embedding the sense of identity. The end-result is harmonious, creating a synergy between every global Western Asset Management office.

Consolidating the space onto a singular floor presented an opportunity to bring teams together, and the breakout area is now a collaborative hub that unites Western Asset Management's workforce, echoing its core business values and people-based culture. It inspires collaborative thinking in a new setting, and is an area where employees can share ideas and work together regardless of job role or department. New elements like booth seating and a breakfast bar further help to encourage teams to socialise or change up their working environment to somewhere more collaborative.

The design of the breakout space also introduces new colours to the company's palette with punchy orange hues, mottled greys and warm earthy tones, which harmonise with the corporate blue and yellow, but still give the space a distinctly different feel.

As an imperative part of the brief, sustainability has been considered at every part of the design process, with the project set to achieve a SKA Gold rating. Western Asset Management's sustainability values are embodied through the use of ethically-sourced natural stone finishes, creating a light, airy, feel for employees, complemented by sustainably-crafted bamboo-fronted cabinetry. Acoustic panelling that has been made from recycled single-use plastic also provides an acoustic barrier with a low environmental impact. Original features such as the terrazzo floor in the main reception area have been maintained and restored, complimenting the original architecture of the space," says Peldon Rose.
Location: London, England
Date completed: 2021
Design: Peldon Rose