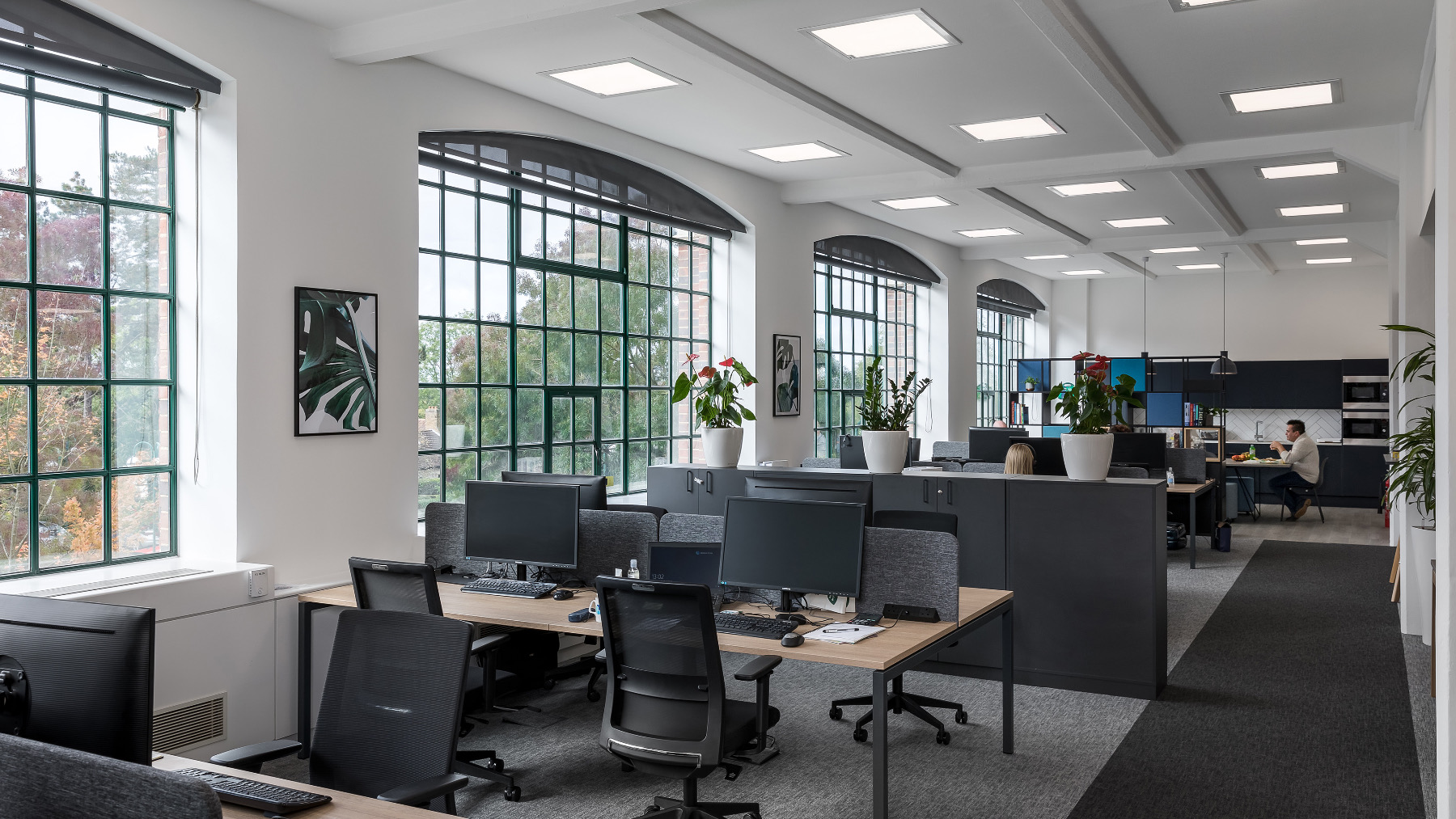 A Look Inside Bionical Emas' New Letchworth Office
Pharmaceutical company Bionical Emas hired workplace design studio Oktra to design their new office in Letchworth, England.
"Bionical Emas envisioned a professional, yet calming work environment that would improve the employee experience and welcome them back to the office after an extended period of remote working. They saw the new office as an opportunity to uplift their company culture and staff morale by encouraging communication and collaborative working. We formed a close working partnership with our client's project team; taking them on a furniture showroom tour to get a feel for their desired aesthetic and ensuring our designers had a comprehensive understanding of their brand and values.

While subtle nods to Bionical Emas' brand reflect their global identity, a neutral colour palette allows the imposing windows to evoke the manufacturing history of the building, giving their Hertfordshire office its own distinct identity. Nature is welcomed into the space with indoor planting, while desks are positioned around the building perimeter to maximise views of the outdoor green space and promote employee wellbeing.

The new office includes three meeting rooms, a private office, a spacious breakout area and teapoint for staff, and front of house reception with a supplementary refreshment point for visitors. With a choice of where and how they work, Bionical Emas' teams now have more autonomy over their daily work environment – from a large collaboration table, to sit and stand hot desks, to quiet areas for focused work. This workspace is designed to be a catalyst for culture change; by bringing staff together in an environment designed for team building and social interaction, Bionical Emas are putting their employees' job satisfaction first and demonstrating their commitment to excellence through office design," says Oktra.
Location: Letchworth, England
Date completed: 2021
Size: 4,000 square feet
Design: Oktra